How To Pick the Perfect Paint Color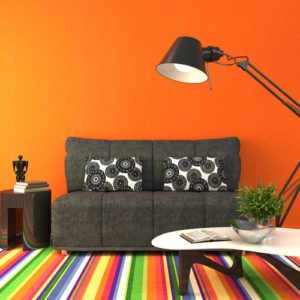 The Begamini Group has helped in finding you the perfect home here in Prescott, Prescott Valley or surrounding areas, and it is now time to personalize the home to be yours. Does choosing the perfect paint color for your home feel a little bit like finding Bigfoot – mythical and elusive? Do you stare at the racks and racks of paint chips at the hardware store and break out into a cold sweat? Are you worried that you're going to pick a color, paint the walls and end up hating it?
Don't worry – we've all been there. Color can have a big impact on the feel of a room and home, so it can be a little intimidating if you feel like you don't know what you're doing. Here are some pointers to get you started and to ensure you'll have a finished product that you love.
Choose an inspiration piece
Do you have a favorite throw pillow? Did you happen across a picture in a magazine that speaks to you? Or here is a place you might not think to look, in your closet!! You'll often see that here is a pattern of color that your consistently drawn to. Chances are, the colors in those pieces have a lot to do with what you find appealing, so why not use them as inspiration? Choose a color or two from the palette and go from there. In fact, Sherwin Williams has a great online tool called Snap It that lets you turn any online image into a personalized paint palette so you can easily match the colors at the store here in Prescott or Prescott Valley.  Purchase a few sample colors and paint on poster boards to move around the room to see how the light in the room can change the color throughout the day. This will allow you to see the color in the actual room and determine if it is what you envisioned.
Start small
If you're new to the color game, then it's probably not the best idea to dive in by painting your biggest room first. Why not practice on a smaller space? Give your powder room, a hallway or guest room a makeover with a fresh coat of paint. You'll have a better idea of how certain colors affect the feeling of a space and if it's a color that your want to surround you on a daily basis in your common spaces of your home.
Determine the mood you want to set
There's no denying that color and mood go hand and hand, so think about the mood you want to create in a room when you choose what color to paint the walls. Do you want to evoke a cozy feeling in the bedroom? Maybe you want the foyer to be bright and cheerful? Do you want people to feel sociable in your dining room? Choose colors for those rooms that evoke the feeling you're hoping to create.
Incorporate what you already have
If there are aspects of the room you cannot change – for example, that beautiful wooden heirloom dining table from grandma or the custom slate tile in your bathroom – make sure you take those existing colors and finishes into account when choosing your paint colors. Let these pieces help guide you in your choices so that the room is coordinated once its complete and does not fight with other permanent flooring or furniture that you plan to keep.
White is perfectly acceptable
If choosing new paint colors is stressing you out, maybe you just want to warm it up with a light cream or soft gray to allow your woodwork to stand out. White is also a perfectly acceptable color that goes with everything. It's absolutely okay to skip the endless deliberations and go with something classic and easy. Sometimes the best way to add color is through furnishings such as pillows and throw rugs, which require less work and commitment.
If your looking for a new home, or selling your home, let The Bergamini Group help you with your future endevors.  Call us at 928-237-4400 or check out our website at welcometoprescott.com.
Compliments of Virtual Results
What Others Are Saying