The Hidden Costs of Downsizing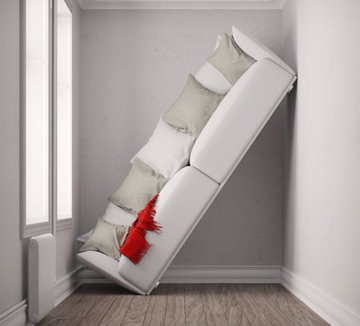 Downsizing sounds like a great way to save money, right? A smaller house should mean smaller expenses, but that isn't always the case. In fact, sometimes downsizing can actually cost you money. Here are some of the hidden costs you should take into account when you're deciding whether or not to downsize.
Cost of repairs
Have you kept up on maintenance in your current home? If not, you may be on the hook for some expensive repairs when it comes time to sell. If you want to sell your current home for top dollar, you'll need to get it in great shape before you put it on the market. This could mean anything from replacing your roof or furnace to making cosmetic upgrades. Many homebuyers are looking for properties that are move-in ready. If you last made renovations during the Reagan administration, then it may be necessary to spend money to get your home up to speed.
Cost of moving
If you haven't moved in a long time, then you may be surprised by how expensive it can be. According to moving.com, the average cost of a local move is $1,250 while a long-distance move will cost you $4,980. If you don't have that money set aside, you may find yourself scrambling to get the job done. In order to save money, shop around for the best price. Get quotes from several companies and research them to make sure they have a good reputation. Don't move during peak summer season, or at the beginning or the end of the month. If possible, pack your own boxes.
Cost of a new location
Chances are that if you're downsizing, you're probably moving to a more desirable location. For many, this means moving to a place with lots of sunshine, low crime, and plenty of amenities. Of course, these kinds of locations usually come with higher price tags. You can expect to pay more for a home. You'll probably also pay more for things like gas, groceries, and eating out.
Cost of new furniture
Downsizing often means that your old furniture just won't work in your new, smaller space. That king-sized bed may not fit in your new bedroom, and the dining table that seats 10 probably won't work in an eat-in kitchen. For many people, this means buying new furniture to fit your new situation. Be aware that it can be tough to sell your current furniture for a good price. Many younger adults are opting for minimalist lifestyles that don't pair well with large, heavy pieces of furniture.
Cost of services
Finally, you should also consider the cost of services in your new location. If you're moving into a condo or planned community, you'll be paying HOA and maintenance fees for the upkeep of community spaces like swimming pools and fitness centers. If you're moving to place where you'll care for your outdoor spaces yourself, you may need to hire a lawn care or snow removal service. Take into consideration both your current and future needs when determining how much you'll be spending on services in your new home.
Compliments of Virtual Results
What Others Are Saying