Why Is My Closing Delayed?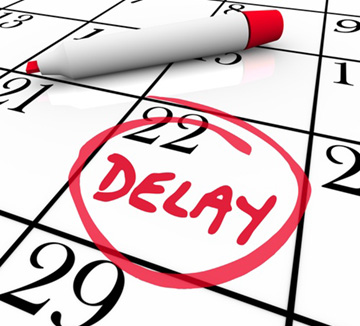 When you're buying or selling a home, the closing day is seen as the finish line. Everything you do is in preparation for that day, and it's the goal that you're striving for. But what happens when your closing day is delayed? Here are some common reasons why your closing date may get pushed back, and what you can do to keep things on track.
Unrealistic timeline
A buyer may want to make their offer more appealing by stating that they can close quickly. But those dates need to be realistic. Expect the closing process to take anywhere from 45 to 60 days on average. Trying to close any earlier than that could cause a series of delays, especially if there are any contingencies or the buyer is obtaining an FHA loan.
Appraisal issues
One of the biggest reasons that your real estate closing may be delayed is because of issues with the appraisal. If the home appraised for less than the buyer's offer, then it could cause your closing date to be postponed. The buyer may need to secure new financing, or the buyer and seller may need to agree to new terms. Make sure your agent is staying current on the appraisal status, so that you can avoid learning of problems late in the game.
Inspection issues
Another reason that your closing date can be delayed is because the home inspection reveals problems that need to be addressed. If the buyer wants these issues to be fixed before closing or to renegotiate the purchase price, it may require the final closing to be postponed. Try to schedule your inspection as quickly as possible to avoid delays.
Title issues
When you buy or sell a home, the purchase will need to be reviewed by a title company. They will research the property to discover whether the seller has the right to sell the home, and that there are no unpaid liens. If the search does turn up liens, the seller must pay them or fight the liens in court. This could delay your closing day by weeks or months. You can help to mitigate this problem by hiring an attorney to perform a title search as soon as an offer is accepted.
Lender issues
Sometimes it can be the lender that causes delays. In some cases, lenders may require additional financial documents at the last minute. The review of these documents may push the closing date back a few days. If your closing is scheduled for the end of the month, this could also cause delays. There are more transactions at the end of the month, which could cause a backlog.
Personal issues
Finally, it's not unusual for personal issues to cause a delay in your closing date. Perhaps the buyer or seller has had a family or a medical emergency. Sometimes there are problems with a moving company. It's also possible that other professionals involved in the process, such as your agent or attorney, have emergencies that they need to deal with. In situations like these, it is best to go with the flow as much as possible, as these circumstances are beyond your control.
Compliments of Virtual Results
What Others Are Saying